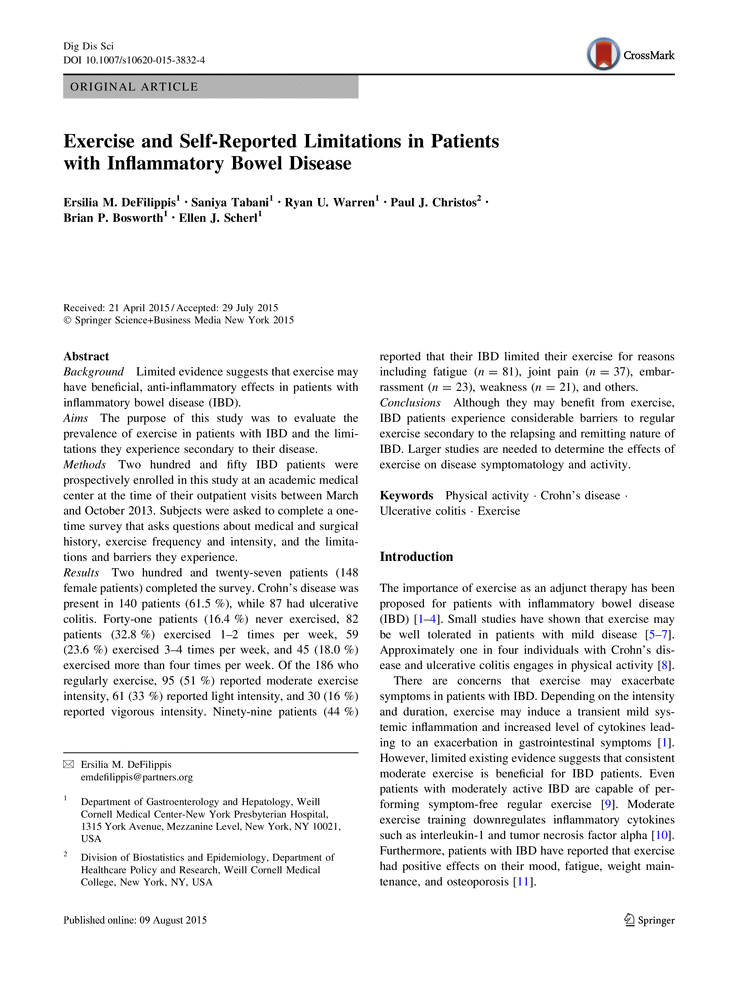 Despite the potential benefits of exercise for patients with inflammatory bowel disease (IBD), many patients experience "considerable barriers to regular exercise" because of debilitating IBD symptoms. Published in the January 2016 issue of Digestive Diseases and Sciences, these findings arose from a team of investigators led by Ellen J. Scherl, M.D., from the Jill Roberts Center for Inflammatory Bowel Disease at Weill Cornell Medicine.
Dr. Scherl and colleagues evaluated 250 patients with IBD who were enrolled in the study in a prospective manner at the time of their outpatient appointments, which took place between March and October 2013. Data on patients' exercise frequency and intensity, and the limitations and barriers they experienced, was collected via a one-time, patient-reported survey.
Among the 227 patients who completed the survey, investigators found that 186 patients (81.9%) exercised at least once per week, whereas 41 patients (18.1%) never exercised. Ninety-nine patients (43.6%) said their ability to exercise was limited by symptoms of IBD, including fatigue (n=81), joint pain (n=37), embarrassment (n=23) and weakness (n=21).
The investigators concluded that the relapsing and remitting nature of IBD symptoms may prevent some patients from engaging in regular exercise. Further studies are necessary to understand the effects of exercise in patients with IBD, they wrote.