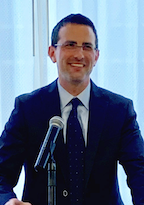 Dr. Randy S. Longman, Assistant Professor of Medicine, Division of Gastroenterology and Hepatology, has been appointed to serve as Director of the Jill Roberts Center for Inflammatory Bowel Diseases (JRC) at Weill Cornell Medicine. Building upon the division's strong legacy in the field of Inflammatory Bowel Disease (IBD), Dr. Longman will oversee and expand clinical, research and educational activities at the JRC.
In his new role, Dr. Longman will be partnering with the Jill Roberts Institute for Research in Inflammatory Bowel Disease (JRI) to develop novel and cutting-edge approaches to study the pathophysiology and treatment of patients with IBD. He will also be involved in the leadership of translational and experimental medicine across the Division of Gastroenterology and Hepatology.
A graduate of Yale University, Dr. Longman received his M.D. degree from Weill Cornell Medical College and his Ph.D. from Rockefeller University. He completed his residency and fellowship training at New York-Presbyterian Hospital/Columbia University Medical Center. This was followed by a postdoctoral fellowship at the New York University Skirball Institute of Biomolecular Medicine.
In 2013, Dr. Longman was recruited back to Weill Cornell Medicine and has since been an integral part of his division's expansion in basic, translational and clinical research, as well as patient care for IBD. He is widely recognized for his expertise and pioneering research in mechanisms by which the host immune system interacts with environmental triggers in both health and disease. The long-term goal of his research program is to discover microbial and cellular mechanisms that will lead to improved diagnostics for early detection of and novel therapies for IBD.