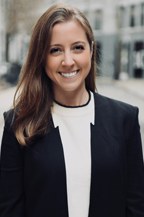 The Jill Roberts Center for Inflammatory Bowel Disease (JRC) recognizes that nutrition plays an important role in maintaining a healthy gastrointestinal tract.
We are proud to work with Registered Dietitian Nutritionist, Ryan Warren, M.S., R.D.N, C.D.N. Ryan specializes in providing evidence- and practice-based nutrition education and counseling for patients with a variety of complex gastrointestinal conditions, including Crohn's disease, ulcerative colitis, irritable bowel syndrome (IBS), small intestinal bacterial overgrowth (SIBO), diverticulosis, diverticulitis, constipation, diarrhea, and gastroesophageal reflux (GERD). Aside from her work in clinical care, she is also actively involved in nutrition-focused clinical research at Weill Cornell and serves as a preceptor and mentor for graduate-level nutrition students in training.
Ryan holds a Master of Science degree in Clinical Nutrition and Dietetics from New York University, and a Bachelor of Arts degree in Human Biology from Brown University, where she graduated magna cum laude. She is a graduate of the NYU Dietetic Internship and completed her clinical training at NYU Langone. Ryan is also an active member of the Academy of Nutrition and Dietetics. Additionally, she routinely provides educational talks at local IBD support groups in Manhattan and contributes frequently to various health- and nutrition-focused publications, websites and newsletters.
Patients who have seen a JRC physician within the past year can schedule a nutrition appointment. To schedule an appointment with Ryan, call (212) 746-5077.
Staff Type: